The first of its kind in the university community is being organized for Saturday, 28th January, 2023. This is a tech conference that will fire up the zeal of techies and also tech enthusiasts.
Different sub topics has been penned for discussion such as:
Scaling financially in tech
Tech income expectation
Careers in tech
Financial Increase as a Python developer
The financial sub topics has been chosen to aid students financially so as to use tech positively; helping themselves while in the University thereby making them to denounce crime of any kind and class.
Python which is a powerful and dynamic language will be introduced and a DELSU Python community will be formed from this conference. The prowess of python can be summarized in the picture below:
Python uses and some possible framework are as follows:
Web development

Django
Pyramid
Flask
webPy
web2Py
Bottle
Tornado

Data Science, Machine Learning and Artificial Intelligence (AI)

SciPy
NumPy
Matplotlib
Plotly
Pandas
Seaborn
Scikit learn
TensorFlow

Software Development
Graphic User Interface Development
System Administration and Development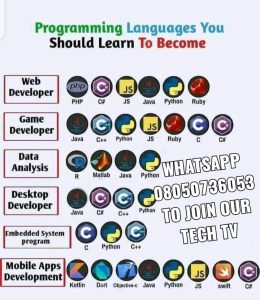 This a conference you should not miss. Register Here